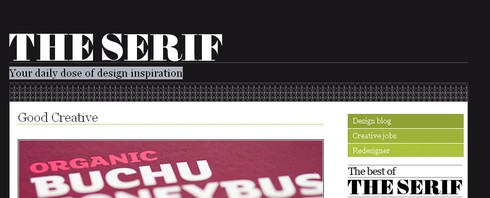 Lorsqu'un site passe par le visuel pour accrocher le regard, ça fonctionne souvent mieux que lorsque on signale un lien par du texte. J'ai remarqué au fur et à mesure du temps, que l'illustration, forcément partiale, attirait plus le regard, donnait plus envie de cliquer et de se perdre.
The Serif fait partie de ces refuges que j'aime visiter. De plus en plus, les blogs adoptent des sous-titres, une annonce accrocheuse ; la sienne est "Your daily dose of design inspiration" et je trouve que ça colle parfaitement. Alliance parfaite de sobriété et de fantaisie, c'est lieu riche et somptueux.
J'y ai découvert, entre autres choses, le portfolio flamboyant et baroque de
Joey Lawrence, un photo-reporter un peu déjanté qui traîte aussi bien des sujets légers que la tristesse ineffable des sans-domicile.