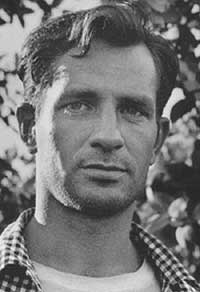 L'année dernière, les haïkus de Jack Kerouac étaient à nouveau publiés, et l'année prochaine verra un grand événement s'accomplir pour fêter les 50 ans de la publication du roman phare de l'auteur. En effet, la version primitive de On the Road sera publiée telle quelle ; la légende, la vraie, veut que Jean-Louis Lebris de Kerouack dit Tijean (j'aime me rappeler ce nom français en pensant à lui) ait écrit Sur la Route en trois courtes semaines effrénées sur un immense rouleau de 36 mètres d'un papier très fin, comme un témoignage ou plutôt un manifeste de la fronde de la Beat Generation.
Ecrit sans paragraphe ni sauts de ligne, le manuscrit original avait été expurgés de ses références au sexe et à la drogue. Le manuscrit original va donc être bientôt disponible après avoir été acquis aux enchères pour la modique somme de 2.43 millions de dollars, édition sur laquelle je lorgne déjà et que je lirai avec plaisir dans le texte.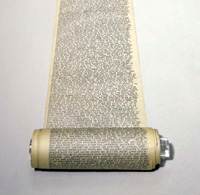 Je profite de ce billet pour faire part d'un petit joyau trouvé chez Robert Monroe ; un interview de Kerouac par Steve Allen en 1959. Interview accompagnée d'une lecture de On the Road par l'auteur, accompagné au piano.
I wrote the book because we're all gonna die…
PS: (note personnelle de l'auteur du billet) Bon Dieu, ce qu'il a comme charme ce Jack, surtout lorsque je l'imagine au volant de sa superbe Cadillac 47 !