Vieux fantasme, être le seul client d'un hôtel (partagé avec celui de passer toute une nuit enfermé dans un supermarché, réminiscence d'un souvenir de gamin consistant à se vautrer dans le rayon friandises) et se faire chouchouter dans une immense suite. Après avoir commis le désormais célèbre hôtel The Five, Philippe Vaurs, un jeune propriétaire talentueux et inventif, a lancé le premier hôtel au concept simple : une seule suite. Et quelle suite ! Lisez la suite… (je me répète un peu, là). Imaginée comme un parcours charnel, une invitation à la découverte des sens, cette suite luxueuse mais avant tout tournée vers l'exacerbation de la libido du client est un lieu unique en son genre, que l'on peut expérimenter au cœur de Paris pour la modique somme de 960€ la nuit. Via Buzz2luxe.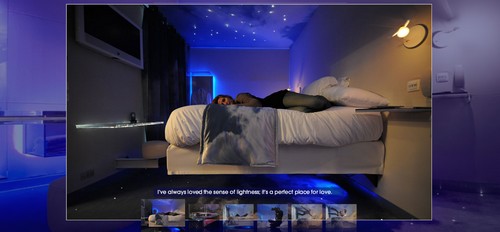 One by The Five.
3, rue Flatters,
Paris 75005
Etant donné que ce n'est pas le genre de lieu dans lequel on vient pour un tournoi de bridge, autant ne pas venir (pas à quinze non plus, gardons une certaine mesure).
Ce billet manque sérieusement de femmes nues, j'en suis parfaitement conscient et je m'en excuse.